Tour Axa/Assur

back

There are two Tours Axa in (or near) La Défense. The first one is the former Tour Assur, one of the first buildings of the second generation.

Here's a distant view of the building: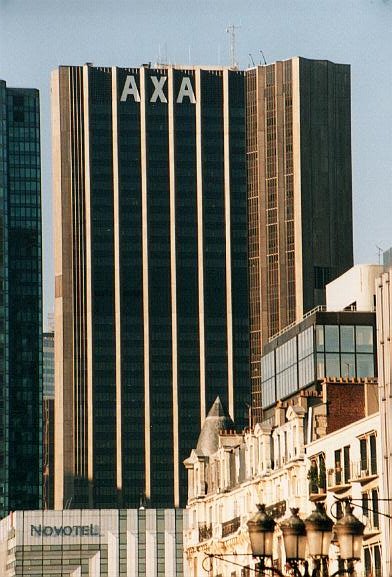 It's a triangularly shaped tower, which is better visible in this closer view.
The three-pointed starshape of the tower symbolizes the merger of three insurance companies into one: Union des Assurances de Paris, UAP.

In order to get all the personnel under one roof, UAP needed 65.000 square metres of office space. This is twice the office space of an average first generation tower and it explains the height of the tower: about twice the height of a first generation building.

A single tower was necessary because of the complicated handling of insurance claims in the pre-computer age. The 13 goods and documents elevators were used more than the 20 personnel elevators!
The second Axa tower is located to the east of La Défense and is the older one.
This building is also called Les Poissons, click here.